We formed in early 2016 and are currently working in partnership with North Walsham Town Council to address the lack of play equipment in and around North Walsham. We want to introduce new and exciting play equipment into the town, making it a 'go to' destination for families in and around North Norfolk.
Our priorities initial/original priorities have been set as follows:
Priority 1
Install a small play area within Woodville Park including two pieces of play equipment accessible to all children (Wheelchair accessible roundabout and inclusive basket swing). Area to be fully resurfaced to ensure access 365 days per year. All the funding needed for this was secured in January 2017 and the order for the new park was placed in Feb 2017. The new park should be installed in May 2017. Park officially opened by Cllr Sallie Stuckey and Cllr Tom FitzPatrick on Saturday 17th June 2017.
Priority 2
A complete revamp of the two old play park areas within the Memorial Park – bringing about a totally new and innovative play provision, themed to the needs of the local community. The first phase will focus on the small fenced-in area currently located closed to the Community Centre.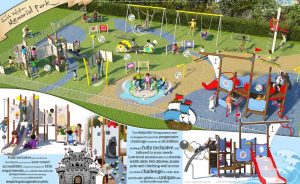 Work started on Monday 3rd September 2018, with an estimated 10-12 weeek programme before North Walsham has another new play park thanks to North Walsham Play.
The new play park was officially opened on 1st December 2018 by Town Mayor Cllr Barry Hester, Cllr Saul Penfold and Founder of North Walsham Play Matthew Smith. This play park is an amazing new asset for the town.
Priority 3
Revamp the play park at Trackside Park and introduce 3-4 new pieces of challenge equipment including trim trail equipment – aimed at older children/teenagers to go with the current skatepark provision provided at said park.
Priority 4
Improve the fitness equipment provision within the Memorial Park – building on the success of the two pieces installed several years ago.
Priority 5
Further develop the Woodville Park and Trackside Park following feedback from work carried out within Priority 1 and 2.
As we work through the above priorities further milestones and targets will be added.
Or perhaps something much bigger for North Walsham???!!!