---
Another amazing event is planned for 2nd May 2022. Make sure to come and have a look between 12noon and 4pm. All proceeds to North Walsham Play and St Nicholas Church

---

Satuday 16th April 2022 (Easter Saturday) will see the return of the Annual Egg Hunt. Tickets on sale NOW via our ticketsource shop (www.ticketsource.co.uk/nwp) or by visiting North Walsham Community Shop. All proceeds to North Walsham Play.

---

Eyes down for 7:30pm at Gimingham Village Hall

---
Below is information on just a few of the many events North Walsham Play have either organised or supported. Make sure you to check out our BLOG page as well for more information.
Fireworks in the Park 2019 – Sunday 3rd November 2019
North Walsham Play were proud to support the Fireworks in the Park event on Sunday 3rd November 2019. An estimated crowd of 3500 people enjoyed food, drink, live music a light show and a spectacular fireworks display. Profits went to North Walsham Play an the Sir Norman Lamb Mental Health and Wellbeing Fund.
Noth Walsham play secured just under £1000.00 from the event – thank you to everyone.
Funday Car Boot Sale – Saturday 29th June 2019
We teamed up with the Funday Committee to host a large Car Boot sale in the grounds of North Walsham Memorial Park as part of the town's Funday weekend. Thank you to everyone who supported this.
Skate Park Consultation – 10th May 2019 – 6:00pm – 7:30pm (at Costa Coffee)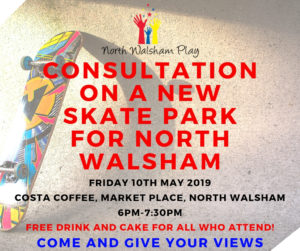 The first of two planned Skate Park consultations took place on Friday 10th May 2019 at Costa Coffee in North Walsham. It was very well supported and is helping North Walsham Play shape and design the very best skate park for the future. Free drinks and treats were provided to all who attended. Next meeting takes place on Friday 12th July 2019 – same time same location 🙂
Childrens Day 2019 (including Car Boot) – 6th May 2019 – 12noon – 4pm (Children's Day) | Car Boot in the Morning
This was the second Children's Day that North Walsham Play were directly involved with; and what a great day it was! Supported by hundreds of the families from across the town, the town centre and church grounds were transformed into venue providing fun for all the family. Proceeds from this years event were split between North Walsham Play and St Nicholas Church. Both great causes received £500 each leaving a small balance of funds to support planning for next years event.
Easter Egg Hunt 2019 – 20th April 2019 – 9:30am – 12noon
Our annual Easter Egg Hunt proved to be another great success whilst at the same time raising in excess of £1600 for the work of North Walsham Play. We are so proud of what our Egg Hunts have become and are already putting together arrangements for 2020! (Date for the Diary – Saturday 11th April 2020).
Saturday 17th November 2018 (9:30am-12:30pm)
North Walsham Play held their first ever Christmas Fayre on Saturday 17th November 2018. The event was supported by many crafters and sellers offering up many early Christmas bargains and very reasonable prices.
Doors opened at 9:30am and the town really got behind the evevnt and gave it their support. The halls were busy for the 3 hours the Fayre was open. Hot and Cold refreshments sold well and their was plenty for children to do at the craft tables.
Father Christmas also paid us a visit to get an idea what the children of North Walsham wanted this Christmas!
Thank you if you supported this event.
Thank you for John Newstead for the amazing photos below.
---
Saturday 31st March 2018 (9:30am – 12noon, last admission at 11:15am)

North Walsham Memorial Park hosted the second annual Easter Egg Hunt on Saturday 31st March 2018, organised by local charity North Walsham Play. The sell-out event saw 250 families join in the easter fun trying to find clues left by the Easter Bunny to solve the 3 riddles.
All children left with goodie bags full of easter treats, which were kindly sponsored by North Walsham Community Shop and Carl Bird Ltd.
As well as the Easter trail there was free Face Painting, Balloon Modelling courtesy of Twist n Shape by the Sea, Refreshments and Easter raffle. Many of the committee had been busy creating easter treats and bakes to sell to all those who attended.
The event raised an amazing £1058.20, 100% of which will go towards the current fundraising appeal to bring about a new £90,000 play park for the Memorial Park.
Trustee and Founder, Matthew Smith, said that we was immensely pleased with the support the local community has shown towards the event. He added "we want to provide affordable family friendly events that everyone can access and enjoy whilst at the same time putting all the money raised back into the local community. We've had a great month in terms of donations and grants and are moving ever closer to our target amount".
Cllr Hester, who is also a Trustee of North Walsham Play added "I would like to thank the people of North Walsham for making this another successful event for the town"
North Walsham Play has recently been awarded a grant of £10502.00 via the North Norfolk District Council Big Society Fund along with a pledge of £5000 from the Hobson Charity and £500 from Interconnector. This builds of the very successful year of fundraising that North Walsham have had. The charity hopes to be in a position to have the necessary funds secured before the end of 2018.
The much needed new play park will see state of the art play equipment installed with a pirate and castle theme. The new park will include DDA compliant equipment including wheelchair accessible roundabout, basket swing and activity boards. The new park will be.
North Walsham Play have many events planned for the remainder of 2018 including market place car boots. See their website, www.nwplay.co.uk, for more information.
---
Friday 16th February 2018
Another successful evening of Prize Bingo at Gimingham Village Hall – kindly ran by Maggie and Heather. The evening raised £296.00 for North Walsham Play. A big thank you to everyone who supported this event and/or donated prizes.
---
Saturday 20th January 2018 (7pm for 7:30pm start)
An evening of comedy ventriloquism with Steve Hewlett (and Friends), supported by Lee Gibling took place on Saturday 20th January 2018. A great night was had by all. In excess of £1300.00 profit made from the evneing, all going towards the new park on the Memorial Park.
---
Sunday 1st October 2017 (Sellers from 7am, Buyers from 9am, Finishing around 12noon)
Following on from the success of the August Bank Holiday Car Boot, North Walsham Play, in conjunction with North Walsham Town Council, held another Car Boot Sale which was very well supported by the local community and at the same time raised over £250 for North Walsham Play. Watch this space for information of more regular car boots being planned for 2018 🙂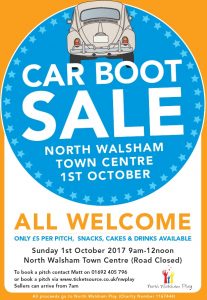 ---
Monday 28th August 2017 (Sellers from 7am, Buyers from 9am)
North Walsham's first August Bank Holiday Car boot in the centre of town was held on 28th August 2017 and the town supported us in their hundreds! North Walsham Play raised in excess of £250.00.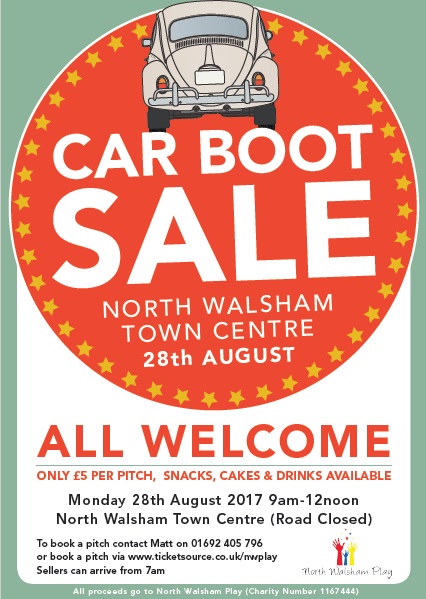 ---
Thursday 17th August 2017 (9am – 12noon)
Another successful Table Top Sale outside Broadland Travel, North Walsham raising an impressive £130 – not bad for a couple of hours work 🙂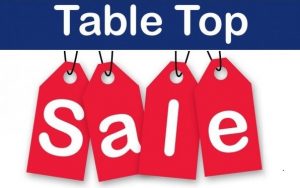 ---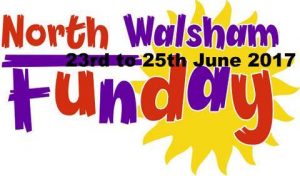 Sunday 25th June 2017 (12noon – 5pm)
North Walsham Play had a stand at the North Walsham Fun Day
We were supported by Twist n Shape by the Sea
The event raised an impressive £163.30