We've reached out £190,000 target!
Work on the new Skate Park started in late August 2021. Below is a 3D image of what our completed park was to look like. The park was handed over to the town in late Feb 2022. A much larger celebration is being planned for during the Summer.

Official opening on Saturday 26th February 2022
The Skate Park was officially opened by Town Mayor Garry Bull and Local MP Duncan Baker. The opening was celebrated by many keen skaters living in and around the town.
A big shout out and thank you to members of North Walsham Play, some of whom are pictured below with local MP Duncan Baker.
Excellent write up in the North Norfolk News available here
Previous page updates:
The current Skate Park located at Trackside in North Walsham is a much loved facility which has been in place for some 20+ years. It is in need of replacement as its currently in a poor condition and is very difficult to repair/maintain.
The Skate Park is now the main fundraising priority for North Walsham Play.
We have a target of £185,000 which we need to raise in order to realise the Skate Park of our dreams (as seen below and as designed by the users and community). This figure soon went upto £190,000 due to rising costs owing to the Pandemic and Brexit.
The park was designed by the community and its users. Much emphasis was placed on ensuring the new facilities meet the needs of all the different user groups including Skaters, BMX-ers and Scooter users. North Walsham Play hosted many face to face consultations followed by online surveys.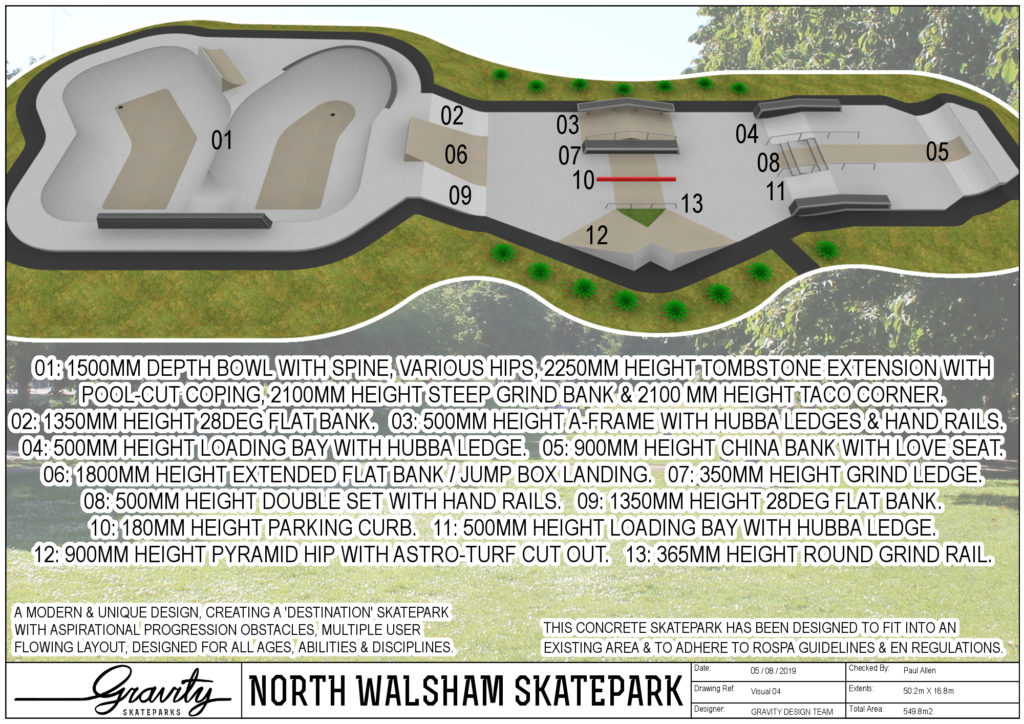 Planning Permission is in place (as of January 2020) – the planning decision can be viewed here
Additional information with regards to what we want to achieve and why can be viewed HERE
Some update photos can be seen below of progress during the Skate Park build