VARIOUS DATE – CARBOOT SALES
In North Walsham Town Centre – Pitches only £6 each.
Reserve your pitch now via www.ticketsource.co.uk/nwplay or by calling Matt on 01692 405796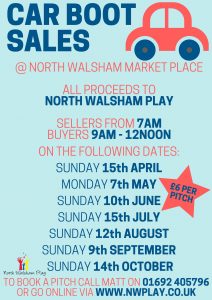 ---
Monday 7th May 2018 (Bank Holiday)  (12noon until 4pm)
Childrens Day within the grounds of St Nicholas Church, Market Street, North Walsham. Fun for all the family with profits going to North Walsham Play at the St Nicholas Church Window Appeal.
Free admission with many activities very reasonably prices. Live music throughout the event.
Animal Experience will give children an opportunity to get up close and personal with many small animals and reptiles.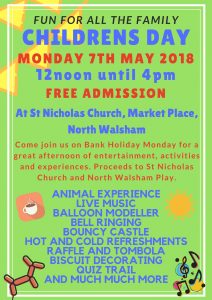 ---
Saturday 17th November 2018 (9:30am-12:30pm)
At St Benets Hall, North Walsham. Free admission to all.
Christmas Fayre for you to be able to grab many pre-christmas bargains.
Stalls available at £5 each – which can be booked via TicketSource or by calling Matt on 01692 405796.
Hot and Cold Refreshments available, plus Raffle and activities for children.
All proceeds to North Walsham Play.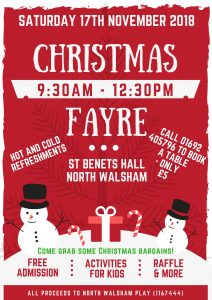 ---
For any North Walsham Play event where tickets are required, you can purchase these via Ticketsource (click on the image below)