Christmas may have been a few weeks ago, but North Walsham Round Table were pleased to hand over a cheque totaling £1502.03 to North Walsham Play. This represented 50% of sleigh appeal donations received in the run up to Christmas 2019. The remaining 50% will be used by North Walsham Round Table to support local good causes and individuals across North Walsham.
Ed Margarson, Sleigh Appeal Organiser for the past several years, once again wished to thank all the residents and members of North Walsham who gave so generously. He added "the Roundtable and I continue to be overwhelmed at the level of support given to our annual Sleigh Appeal. It was great to see so many children enjoy seeing Santa and his sleigh visit many roads across the town during December".
Once again, a live tracker was hooked up to the Sleigh allowing children and their families to know when Santa was close!
Matthew Smith, Trustee of North Walsham Play wished to thank North Walsham Round Table for deciding support them again in 2019. He added "we have really enjoyed helping Santa and his elves once again as they visit many parts of North Walsham. We will put the donation to very good use with regards to reaching our £185,000 fundraising target for a new Skate Park"
Find out more information about North Walsham Round Table here: https://northwalsham.roundtable.co.uk/ or visit their facebook page via www.facebook.com/NWRT331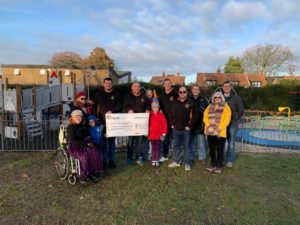 Members of North Walsham Round Table presenting the cheque to committee members of North Walsham Play.