Its very sad to see not one but two of our basket swing seats vandalised within a 3 day period. This has cost North Walsham Play in excess of £1000 to put right after the first seat was damaged. To see the second seat damaged within 24 hours of being installed is heart breaking.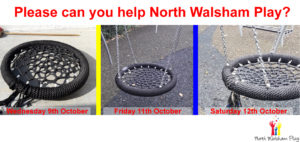 We won't let this beat us!
We now need to raise some additional funds to look at procuring a more robst seat.
Can you help? https://localgiving.org/appeal/nwpswing/